Your guide to Miami, Florida.
Wintertime means escaping to a warm climate whenever you can, and for as long as you can. One American go-to for our fellow Canadian friends and family is always Miami, Florida. With a brief 3-hour flight to a paradise of palm trees and sunshine, it's the perfect destination when you're feeling the winter blues.
Here is a brief list of notable hotels to stay at when you're there, with * as the rating of the hotel and $ as the price-point.
Please note, finding a hotel that has everything for a smaller budget is attainable, however, upon looking online, I personally can't find ones that I have been to myself that I can attest to. I did check the HOTEL TONIGHT APP, which I HIGHLY recommend you getting, which you can find extremely affordable prices for a more luxe stay. If you're just 2 people going on a budget, using this app last minute or a little in advance could really benefit you. Just look for hotels in the areas surrounding the places I've mentioned below. 
1. ***** 1 Hotel (South Beach) $$$$
One hotel is nestled on the popular South Beach strip, it's a high-end hotel, with a high-end price point but staying at this beautiful spa-like oasis is paradise in itself. Rooftop pool and lounge as well as beach access, tesla chauffeur service, some healthy eats located inside and the aroma of this hotel alone when you walk in is enough to make you swoon. If you're looking for a "party" hotel, this probably shouldn't be your first choice.
2. ***** Fontainebleau Miami Beach $$$-$$$$
Fontainebleu is a little tricky because you either love it or hate it. IF you are into the party scene and want a very mixed crowd with youthfulness but also businessmen and women, this is your spot! With shops, clubs, restaurants and multiple pools, this hotel feels more like a RESORT. The rooms aren't the nicest as they look a little more outdated, nevertheless, stilll a VERY popular hotel. *Note* Fontainebleau is NOT on the South Beach strip, it is about a 5-8 minute drive from it. 
3. **** EAST Miami $$-$$$
Located in Brickell, this trendy neighborhood is actually a favorite! The crowd at night is youthful and there's a brand new mall that's basically attached to this hotel. It has a pool area, restaurants and a trendy rooftop bar called SUGAR. Brickell is a great area if you don't like the whole "South Beach" crowd as it isn't for everyone. Plus, its a short drive away if you want to go to the beach.
4. **** Delano South Beach $$$
I love this hotel! As soon as you walk in and see the oversized furniture and mysterious walkway you're instantly curious to see more. They have pool parties in the back, which is a cute little area with a giant chess game on the grass you can play. The hotel smells amazing and the pool parties are well-known if you're into that. It's located right on the South Beach Strip so you're close to all the action down there.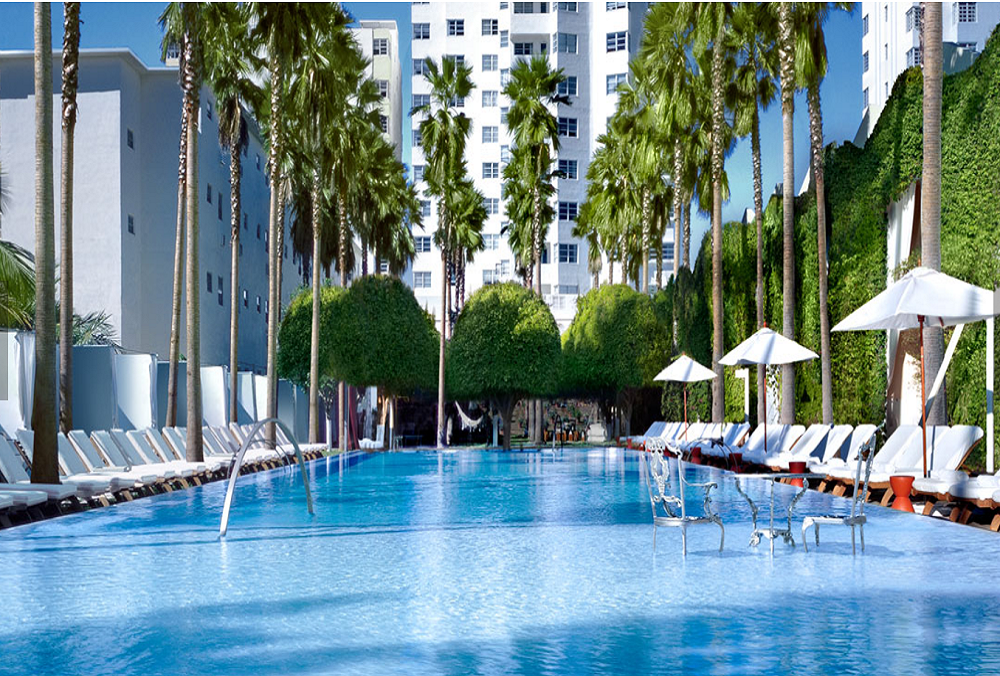 5. ***** The Four Seasons Hotel - Surfside $$$$
Okay so PERSONALLY, I would not recommend this hotel if you're young and looking for a fun good ol' time. This isn't your place, don't even stop by if you're looking for that party crowd. This hotel oozes class. These 5-star Amenities come with a 5-star dining experience, but we will get to that later.  The Four Seasons Hotel Surfside is not close to South Beach, in fact, it's the furthest hotel from all the ones I listed. If you're not into the South Beach crowd-because like I said, it is NOT for everyone, if you're looking for a nice relaxing and luxurious vacation with your significant other, with the most beautiful indoor-outdoor mall just minutes away, then this is the place you want to be. I'll warn you though, there isn't a crazy amount of things to do in the neighborhood besides malls (which have pretty good restaurants situated inside) you will be about a 30-minute drive from South Beach, depending on traffic.
 Now that we've got hotels out of the way, let's move on to:
THINGS TO DO:
1. Brickell City Centre (Mall) A new indoor-outdoor mall in Brickell with beautiful architecture and design, what to eat there? go to Mistura 01 for pizza down the street OR stay inside the mall, the ground floor of Saks Fifth Avenue there's an amazing food hall called Casa Tua Cucina. There's also another food hall on the opposite side called Centrale, but Casa Tua is better in my opinion. Check out SUGAR at night if you're in the area, however don't go out of your way for it. B Bistro also has really great pastries.
2. Wynwood Art District The second weekend of every month, this area is SO alive at night, they basically throw a huge art party. If you aren't there during that time, don't fret, take a walk and see amazing graffiti all over the district, good eats and unique shops! Popular spots that I like there are KYU, BEAKER & GRAY ( just outside) get donuts at The Salty Donut.
3. Design District  An outdoor luxury mall near Wynwood, amazing restaurants all around like Mandolin, Michaels Genuine, St Roch Market, OTL,  MC Kitchen and Swan. Head over to the DIOR CAFE upstairs of DIOR while you're there if you want some "insta worthy pics" I mean, I wouldn't really eat there though, it's not that interesting overall but it's nice. This area is great to explore on a sunny day. Rent a scooter and ride around brickell!
4. Bal Harbour Shops An indoor/outdoor luxury mall you need to visit. Dress to impress because everyone here does too! Places to eat are Hillstone, Makoto, Carpaccio and Le zoo. (Makoto & Hillstone are my fav, Carpaccio is where everyone sits to be seen and people watch)
5. RELAX at the beach! This is an obvious right? enjoy Miami beach or whatever nearest beach you have. You can also find out which hotels allow for pool day passes if yours doesn't have one and go sit there!
6. Get on a boat or rent a jet ski! I highly recommend going to Haulover Sandbar (Sat & Sun only) where there is basically a party of other boats and jet skis all surrounding each other, playing music and having a good time. There are even food water trucks there! F-U-N.
7. Feeling Touristy? Head over to Versace Mansion for lunch and take a tour of the infamous former estate of Gianni Versace.  
8. DOWNLOAD THE FREEBEE APP! Seriously, do it! This app is my favorite thing ever. You can request a golf cart to pick you up anywhere in south beach for FREE, it's like a more fun uber that you don't pay for. I even take it from Wynwood to design district sometimes, although availability is limited at times, I highly recommend it. Don't forget to TIP your driver though, there's always a catch ;)
9. Go to a movie! The iPic movie theatre is a great VIP experience, the food is good, you get a pillow, blanket and a fully reclining chair (ahem VIP in Toronto needs to step it up a notch)
10. ZWF MIAMI - If you're an animal lover like I am, you need to go to Zoological Wildlife Foundation. It's a bit of a trek but worth it. Check out their website https://zoologicalwildlifefoundation.com/wildlife-tours/book-tour/ and get in there! Ps. I don't support every animal encounter place, but they are legit :)
 11. Baoli Weds & Saturdays for a girls night, don't eat there, go afterwards for the lounge/party time. MARION is similar too.
12. E11EVEN - Good after 2:00 am, go somewhere before and head here after as it is open all day and night. 
13. LIV nightclub located inside the Fontainebleau check what days you prefer for your music genre likes. 
14. Aventura mall- Indoor mall, has a new side that is good to explore and has restaurant options, the older side is dated.
15. Want to work out? I love Jetset Miami for pilates, Solidcore is a popular one, and they have a Barry's Bootcamp too.
16. Go to KITH and get their cereal ice-cream and explore the shop.
17. Go hotel hopping - You can make an afternoon out of this, Sometimes I just go into each hotel in south beach and explore the grounds. 
18. Get a Facial at my Favourite spot, you'll have to ask me personally for this one if you're interested, my secret spot!! Lol
19. Go to Faena Hotel, it's really beautiful and interesting, and a great place to stay too! Check it out. *Note* It isn't on the main South Beach trip so don't think you can just walk to it if you're not staying there.
20. Go bowling and ice skating at The Edition Hotel. It's something cute and fun to do, plus there's a nightclub (meh) on the other side of it! Really nice hotel as well.
21. Go for a massage at The Standard Spa. Oh and it's on the water! get your tan on, lay out and have lunch while you're at it!
22. Visit the Viscaya Museum. I haven't personally been here yet but It looks really nice!
PLACES TO EAT:
1. The Surfside Restaurant by Thomas Keller- Chic Ambience, inside Four Seasons Hotel Surfside.  
2. Le Sirenuse- Chic Ambience, inside Four Seasons Hotel. 
3. Komodo - Asian Fusion, Fun atmosphere, located in Brickell.
4. KYU - Asian cuisine, Hipster, in Wynwood.
5. Nusret Steakhouse - Not my fav food, fun atmosphere. 
6. Kiki on the river - Greek food, nice restaurant on the water, party on Sundays.
7. Seaspice- Next to Kiki on the River, same vibe
8. Lucali - Pizza spot from New York, Casual, Popular and a locals favourite. 
9. Byblos - Although we have one in Toronto as well, I find the Miami location better and has some great menu options. 
10. Joe's stone crab - a popular spot in Florida, I haven't personally gone but a lot of people do, get the PIE.
11. SHAKE SHACK! helllooooo! you need Shake Shack when you're in the states, it should be illegal not to go. 
12. Bazaar Mar by Jose Andres - Beautiful Seafood restaurant located in Brickell
13. Papi Steak - Haven't been here yet because it's new but for sure a new popular spot in Miami.
14. Cecconi's for Saturday or Sunday brunch, very cute but pricey buffet. Book in advance.
15. Setai Brunch- One of my fav hotels in South Beach that I didn't list above, pricey too.
16. Novikov- Chinese/Japanese Restaurant Downtown, Miami.
17. Yardbird Southern Table & Bar. YUM their Mac & Cheese.
18. Malibu Farm at Nobu Hotel for lunch. It's overlooking the beach which is really nice, get the avocado pizza.
19. Ghee Indian Kitchen - not a vibe-y restaurant but if you're in the mood for indian it's a good spot!
20. Cipriani - on the water, beautiful views, in Brickell attached to the W hotel, older crowd, pricey.
21. Amara At Parasio - SO I want to love this restaurant so badly, and while their cheese puffs are to die for... the food isnt great, which is unfortunate because it's on the water and so beautiful! Dannnggg..
Miami has Nobu and Zuma, however, they're not as great as they once were. Zuma is nice because it's on the water, Nobu I haven't been to, and wouldn't go to because everyone tells me it's terrible in Miami. 
Here is a link to new spots I haven't tried yet but you can take a look at that I found online:
https://miami.eater.com/maps/best-new-restaurants-miami-heatmap
OK FOLKS, THAT IS ALL, PLEASE let me know if my guide helped you and if you are trying or did try any of my suggestions out! This took me forevvvvvvver!!!
Signing off, 
xo
Sara.
Continue reading